Aging Education in SOCIAL WORK
By the year 2030, one in five clients, one in five consumers and one in five investors will be 65 or older. The dramatic growth and increasing diversity of this population are having a profound impact on every societal institution—work, retirement, education, health care, and the family—and accordingly on the social work profession. The Bureau of Labor Statistics predicts that job prospects for social workers specializing in aging will be quite favorable.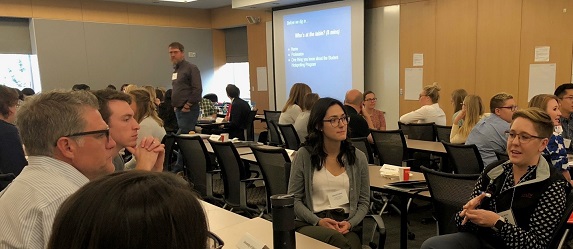 This concentration builds upon the generalist foundation curriculum and provides students with state-of-the-art knowledge, skills, and values in preparation for a career working with older adults and their families. Courses are taught from:
The perspectives of social justice and bio-psycho-social strengths and challenges
Students learn about the aging process and its impact on the well-being of individuals and their families
Personal and societal attitudes and values that can affect older adults
Theories of aging
Evidence-based geriatric clinical interventions and models of care
Current aging-related policies, as well as skills needed to engage in the policy process.
Graduates are prepared for direct practice and administrative roles in multiple service settings—such as:
Geriatric health and mental health centers, hospitals, home care agencies, long-term-care facilities, multipurpose senior centers, retirement communities, welfare planning bodies, and age-related organizations working for policy change.
Objectives:
Graduates of this concentration are able to:
Critically evaluate the aging experience as psychologically, socially and culturally constructed and address values and biases.
Describe the contributions of a variety of disciplines to the study of aging.
Recognize how diverse health/illness conditions, populations, and conditions impact social work practice with older adults and their families.
Promote older adult clients' right to dignity and self-determination, and engage in ethical decision making.
Utilize evidence-based approaches to a) assess the social, psychological, environmental and economic situation of older adults and their families, and b) develop appropriate treatment plans.
Work effectively within geriatric inter-professional teams.
Help older adults and their families navigate fragmented systems of care to ensure that they receive available social and health care resources.
Provide medical, social and other care management services to facilitate the transition of an older adult from institutional care, such as a hospital, to another setting, or to help him or her remain at home.
Serve as administrators, advocates and policy analysts within public and private agencies and institutions.
Advocate on behalf of older adults and their families to help overcome barriers to care and develop "real world" solutions.
Analyze aging policies within the political, economic, and social trends that influence health care delivery in the United States and in comparative and global contexts.
Promote use of research to enhance and evaluate the effectiveness of social work practice and aging-related services.
Aging in Social Work Concentration Program of Study Guide
Types of Aging Practicum Placements: Inpatient, residential, outpatient and community based mental health and health programs serving older adults.
For more information, please contact:
Charles Pitre Hoy-Ellis, PhD, MSW, LCSW
Co-Chair, Aging in Social Work Concentration
Charlie.Hoy-Ellis@utah.edu
(801) 585-0835
Troy Christian Andersen, PhD, MSW, MS, LCSW
Co-Chair, Aging in Social Work Concentration
troy.andersen@hsc.utah.edu
(801)587-5354