Engaging the Community to Build Student Success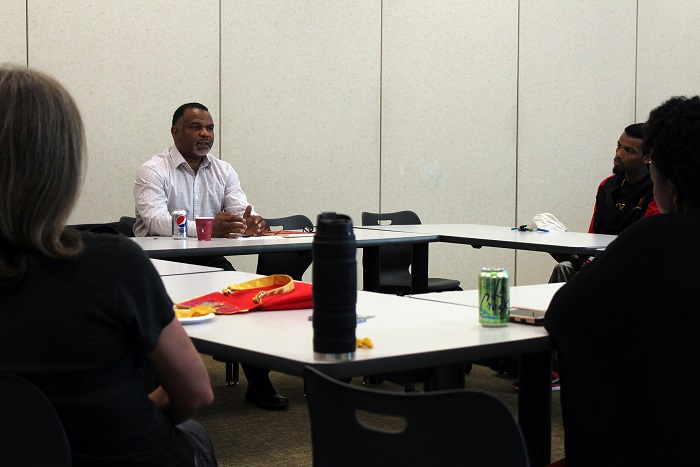 New leadership comes with a lot of… new. New ideas, new questions, new procedures. New is part of the package. Last summer, a new dean started at the University of Utah College of Social Work. During his first year, Martell Teasley has reached out to students and community partners in a variety of ways—face-to-face meetings with groups large and small, informal get-togethers, and electronic surveys, in addition to maintaining an open door policy in the dean's office. He's wanted this new to happen in partnership with the larger community. "This leadership team has really made it a priority to let partners of the College of Social Work know their feedback is important," said Lisa Himonas, assistant dean for development.
Dean Teasley carved out time in his packed first-year schedule to host town hall meetings with different stakeholder groups—current students, alumni, field instructors, local agency representatives—and solicit their opinions and ideas. He also implemented new "Treats with Teasley" breaks between classes, when students could grab a snack and bend the dean's ear.
In explaining why he made this one of his first priorities, Dean Teasley said, "I can do more when I know more." He noted that in order to offer our students the best education, it was vital to know both strengths and where improvements can be made. "It's important to hear from our stakeholders," he said. "It's important to involve them in the changes we're making. The question is not, 'What is the College of Social Work going to do?' But rather, 'What are we going to do, together?' We can't be successful in this work unless we include our entire community."
Changes already are being made as a result of conversations Dean Teasley had this spring. A new advising process will help students get more consistent information. A new evaluation system will enable students to more easily give feedback about their in-class experiences. Discussions have also started to identify ways to strengthen the curriculum, increase the academic rigor across programs, and support continued student success after graduation. "We want our students and our community partners to know that we hear them, that we take their feedback seriously," said Dean Teasley.
In the midst of all these changes, some things remain constant. "We are committed as ever to working alongside our many partners and learning more about how social workers can best help people within the context of their communities," explained Dean Teasley. "Community-based work is a critical element of social work education and we remain dedicated to providing those opportunities to our students."