Pathologizing Porn: The Role of Social Work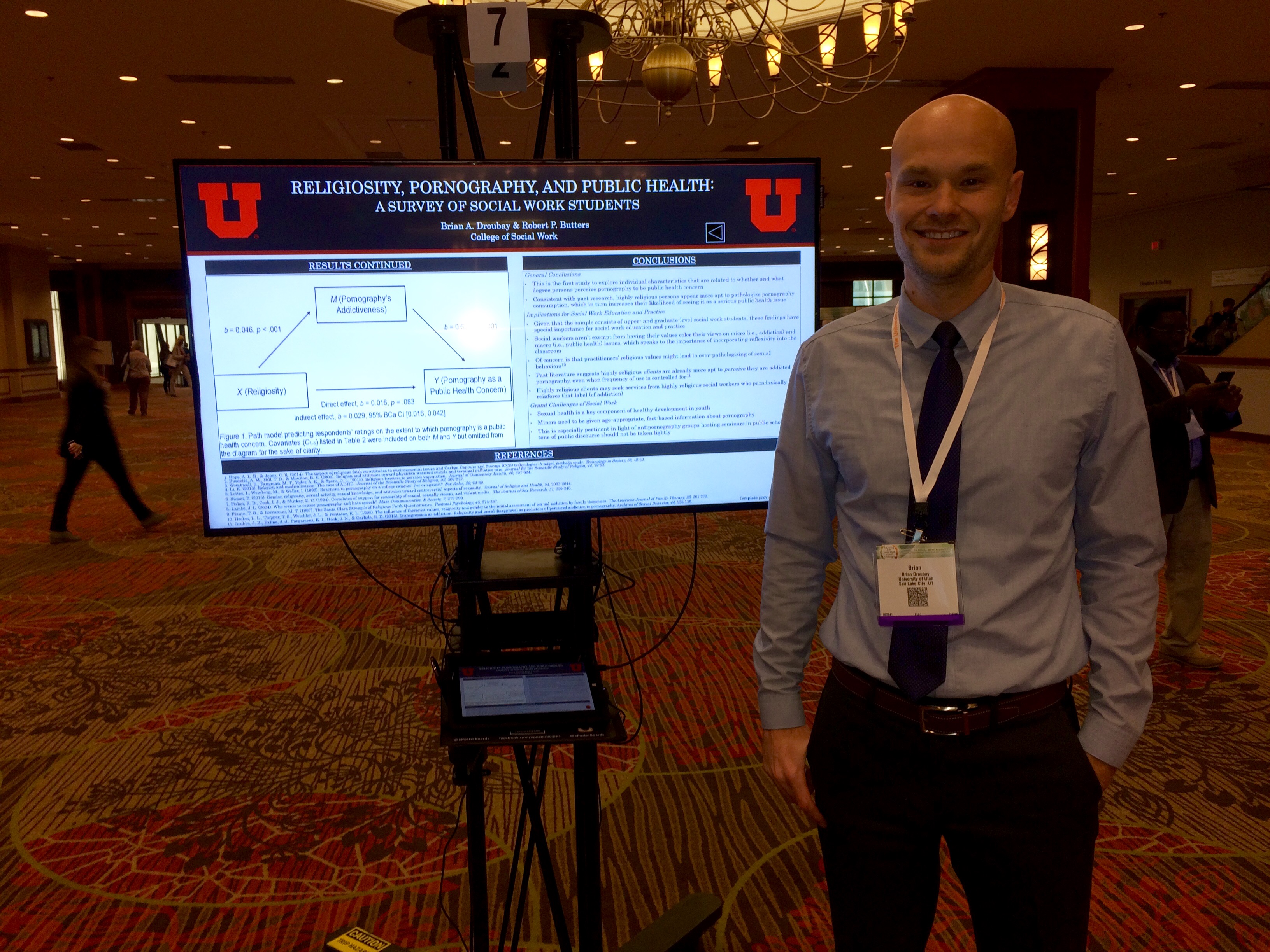 By Brian Droubay, MSW, PhD Student, with Rob Butters, PhD, Assistant Professor and Director of the Utah Criminal Justice Center, University of Utah College of Social Work
Pornography. It's a polarizing topic that has received increased scrutiny in the digital age. Notably, last year, Utah became the first U.S. state to pass a resolution1 declaring porn a public health crisis. Several other states have since followed suit. Simultaneously, antipornography advocacy groups have gained attention. Fight the New Drug2 (FTND), for instance, likens porn to illicit substances. FTND has (controversially3) been given a platform in public schools. And it isn't uncommon to walk around campus here at the U and see students wearing "Porn Kills Love" t-shirts.
But discussions on pornography haven't been limited to the public policy arena. Researchers and clinicians are also grappling with the effects of porn. Most clinical social workers who practice in Utah will see clients seeking help for porn issues at some point. "Porn addiction" and "sex addiction" are commonly used colloquial terms, despite the fact that no formal diagnosis or symptom criteria exists for either4. Further, there is virtually no literature on evidence-based treatment5 for these issues. This creates an ethical quandary for social workers. If a client comes to therapy purporting to have a porn addiction, how do we respond?
Our interest in this subject grew from our experiences practicing clinical social work. We have seen increasing numbers of clients distressed about porn use. At times, clients endorse porn consumption that is clearly problematic. For example, they were fired from work because of viewing it. At other times, clients purport to have a porn addiction even though they may only view it infrequently. Oftentimes, these clients are distressed because porn viewing conflicts with their religious values.
And recent literature speaks to this. Highly religious clients are more likely to perceive they are addicted to porn than their non-religious peers, even when taking frequency of use into account6. Further, while porn viewing is associated with decreased marital satisfaction, spousal religiosity affects the magnitude of this relationship7; that is, when a porn consumer's spouse is highly religious, the adverse effects of porn on marital satisfaction are greater. Thus, religious persons may experience porn as more destructive personally and familially than their non-religious peers.
If clients' religious values color how they perceive porn and how it affects them, might religiosity not also affect social workers' perspectives of it? From early clinical training courses, social work students are acquainted with terms like "countertransference" and "reflexivity." As social workers, we learn how important it is to continuously evaluate our own backgrounds, biases, and values because they impact how we view and assist our clients.
How, then, might social workers' religiosity affect their perspectives on porn? With this question in mind, we conducted a survey with social work undergraduate upperclassmen and students enrolled in the MSW program at the University of Utah. More specifically, we examined the role of students' religiosity in informing their views on pornography's addictiveness and whether they see it as a serious public health issue, while statistically controlling for other relevant variables (e.g., gender, political ideology, pornography consumption). Our findings suggest that highly religious students are significantly more likely to pathologize porn—to rate it as more addictive. And in turn, students who perceive it to be highly addictive are then more likely to rate it as a serious public health concern.
Our findings have implications for social work practice. If highly religious social workers are more likely to rate porn as addictive, they may be more apt to pathologize their clients' use of it, especially given there is no formal diagnostic criteria or direction for evidence-based treatment. Further, if highly religious clients are already more prone to perceive they are addicted to porn, and they seek assistance from practitioners with shared faith backgrounds who are more likely to pathologize their consumption, there may be a reinforcing, subconscious effect wherein diagnosis of addiction becomes more likely. This is significant in that perception of addiction to porn, rather than the actual consumption of it, is predictive of psychological distress, including depression, anxiety, and anger8.
Our findings also suggest that religiosity affects how social workers see macro-level (i.e., public health) issues. More research is needed to examine whether religiosity also affects social workers' perceptions of other public health and policy issues—and whether this ultimately affects advocacy efforts. But our findings speak to the importance of reflexivity, not only in the context of individual practice but also in the macro practice arena.
Utilizing a biopsychosocial approach, social workers can bring a more comprehensive and balanced perspective to the porn debate. A burgeoning body of research suggests the effects of porn—good and bad—are contextual: that is, porn affects people differently depending on individual attributes, personal values, and social contexts. Our clients are likely affected by the messaging of public health declarations and antipornography campaigns equating porn to illicit drugs—and this is especially true in a highly religious state like Utah. For this reason, when engaging in assessment, treatment, and advocacy, we need to be sensitive and deliberate about our messaging, staying cognizant of how our backgrounds affect our feelings about these issues, so as not to paradoxically harm our clients in an effort to help them.
1. https://le.utah.gov/~2016/bills/static/scr009.html
2. https://fightthenewdrug.org/
3. http://archive.sltrib.com/article.php?id=4409139itype=CMSID
4. https://link.springer.com/article/10.1007/s40429-014-0027-6
5. http://www.tandfonline.com/doi/abs/10.1080/10911359.2015.1062672?af=RjournalCode=whum20
6. https://link.springer.com/article/10.1007/s10508-013-0257-z
7. http://onlinelibrary.wiley.com/doi/10.1111/socf.12252/abstract
8. https://www.ncbi.nlm.nih.gov/pubmed/26372200
The views and opinions expressed on the interACTION blog are those of the authors and do not necessarily reflect the official policy or position of the University of Utah or the College of Social Work.