Elder Abuse and Responsibility to Report

Approximately one in 10 older Americans experience some form of elder abuse. In 2016, Utah's Adult Protective Services Programs investigated more than 7,200 cases, and suspicion of elder abuse is being reported at higher rates every year.
"Like other types of interpersonal violence, experts believe that elder abuse is being underreported," says Dr. Troy Andersen, executive director of the University of Utah College of Social Work's W.D. Goodwill Initiatives on Aging [BROKEN LINK]. "As a community, we all need to be vigilant."
Dr. Andersen explains that elder abuse can include physical, sexual, verbal, or emotional abuse; caretaker or self neglect; or financial exploitation. More than half of the 2016 cases Utah determined to be supported allegations were of financial exploitation, with physical and emotional abuse making up the next two largest categories.
Deteriorating physical and mental health (especially dementia) can increase a person's vulnerability to abuse. Older adults with dementia and/or physical disabilities experience abuse at a higher rate than those without. But one of the biggest risk factors for elder abuse is social isolation. Dr. Andersen explains that having a variety of social connections – family, friends, neighbors, caretakers, or other service providers – gives older adults more options when they need to reach out for help. It also provides a network of people who can recognize and report abuse when older adults cannot or choose not to report it.
"Just like cases of child abuse, Utah law mandates that suspected abuse of vulnerable adults is reported to the authorities," says Dr. Andersen. "It can be a tough call to make, but it's one that can dramatically improve, or even save a person's life."
Abuse can be reported to Adult Protective Services at 1-800-371-7897, or online at https://daas.utah.gov/adult-protective-services/. In a life-threatening emergency situation, call 911.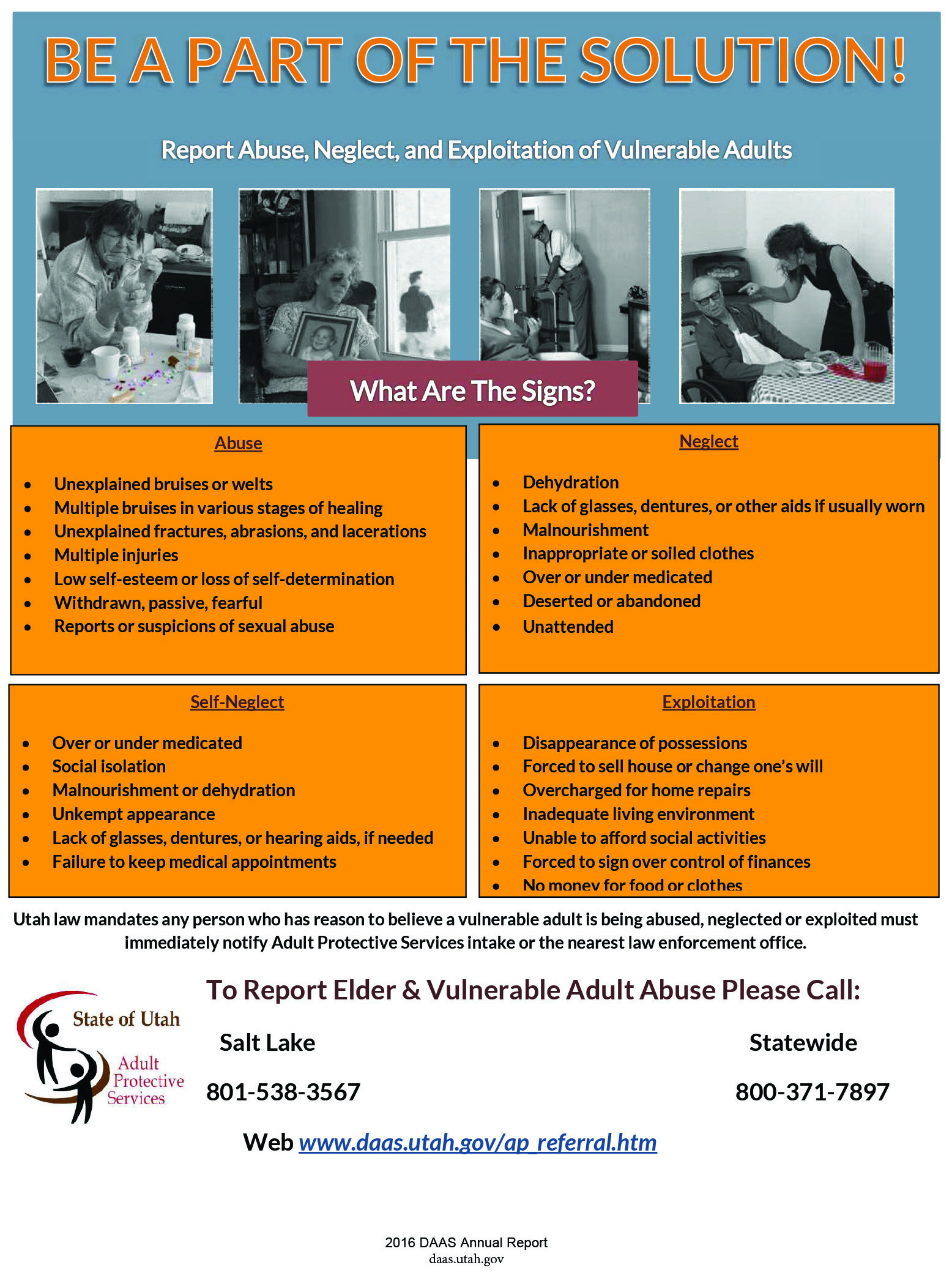 The views and opinions expressed on the interACTION blog are those of the authors and do not necessarily reflect the official policy or position of the University of Utah or the College of Social Work.