Wor(L)ds Surrounding Religion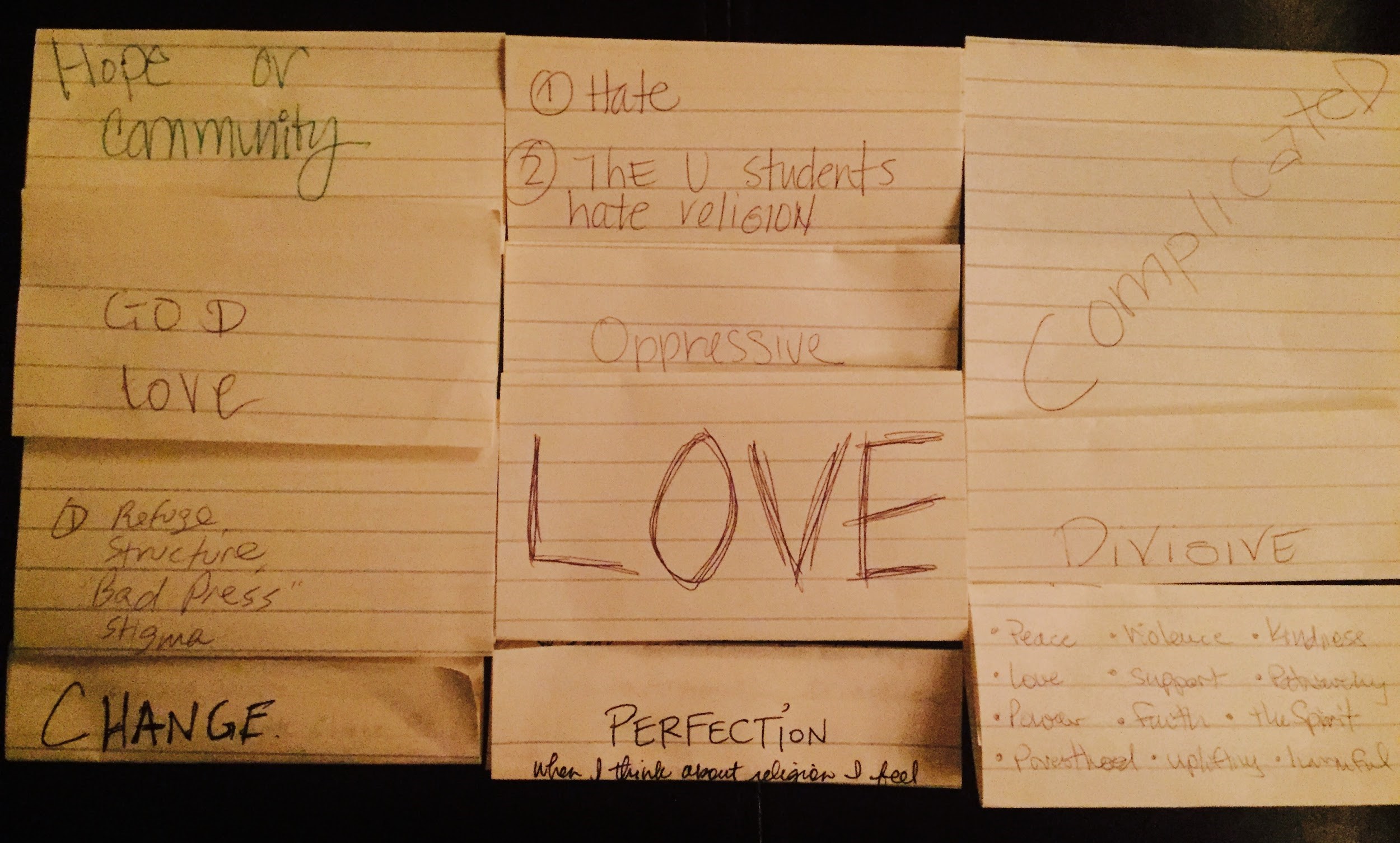 By Sarah Anderson, Master of Social Work Student, 2016-2017 ITSW Experiential Scholar
"Everyone has a unique story to tell about religion. I know how easy it is to prescribe a certain set of ideals and values onto your understanding somebody else's religion when really our job as social workers, our job as human beings, should be to get to know people on the very basic human level… How can we connect together?" —Student, "Storying Ourselves"
According to the Pew Research Center, 55% of adults in Utah are affiliated with the LDS Church. The other 45% are a mix of other religious and nonreligious affiliations making up minority voices. The tension between religion and social work ethics contributes to the disruptions and challenging conversations within classrooms in the College of Social Work at the University of Utah. Giving validity to diverse religious stories helps to increase collaboration between social workers and the diverse communities they work with. To give validity to differing stories within the College, the Initiative for Transformative Social Work (ITSW) hosted an event centering on the use of words to describe experience with religiosity.
The word I used to describe my experience surrounding religion is "disowned."
Most of my family members are religious. At about age 21, I decided to leave a faith of my heritage, a Christian faith. I felt that my family disowned me as I created my new path, which was an opportunity for a greater exploration of truth in many ideologies. I also feel like I disowned my heritage by having my name removed from the religion's records of membership. This decision was monumental on the potential impact with my relationship with my family. I did not know if my family would accept me or allow me to continue to be part of the family. But I am lucky. My family has come to accept me, even if I hear regular disapproval about my choices.
Despite the contradiction that I felt and continue to feel within myself, I seek to respect both my future and past self. This has led me to contend with a simultaneous hatred and deep respect for religion; in this manner, religion can bring people together and divide them. As I have walked a path that has felt very lonesome at times, I have found something that is more meaningful for me, completing a full circle of walking away and discovering new. Because of my own experience, I felt it was important ITSW host an event centering on the experience of religiosity within the College of Social Work that contributes to divides within classrooms.
On December 2nd, ITSW hosted an event, "Storying Ourselves: A Dialogue on Religiosity within the College of Social Work," at the University of Utah. The purpose of the event was to deepen the story of ourselves as students of the College of Social Work and our relationships to religion. It began with the audience writing a word they associated with religion. The purpose of this activity was to show that someone could have either a positive or negative experience with religion, which will be the reality inside and outside the classroom.
The event started with a screening of a video we created featuring students sharing their stories and experiences with religion. The video, "Storying Ourselves: Religiosity within the College of Social Work," was directed by Sarah Anderson and Hannah Wilde. It begins with individuals sharing a word associated with the word "religion," followed by a sharing of stories. The differences in words demonstrate the variety of experiences in regards to religion. The video, however, did not include people who do not identify as affiliated with religion, which is something we wish we had included. The event ended with a panel discussion on how to understand the differences in religious experiences and the impact on conversations between students within the College of Social Work. This dialogue brought together students to share their stories and see others' perspective.
This sharing of our words connects our worlds and experiences surrounding religiosity, which develops an understanding of alternative stories. We, as social work students, must develop a listening ear and a perceptive eye to see the story less spoken. This is accomplished through showing respect, validating people's experiences, and listening to the words they use to define their experiences with religion and intersecting experiences (i.e., race, gender, sexuality, etc.). This is imperative because it supports the goals of social work to create self-determination and social justice to the minority story.
Reference:
Pew Research Center. (2017). Adults in Utah. Religious Composition of Adults in Utah. Retrieved from: http://www.pewforum.org/religious-landscape-study/state/utah/
The views and opinions expressed on the interACTION blog are those of the authors and do not necessarily reflect the official policy or position of the University of Utah or the College of Social Work.