2016 SUNDANCE FOR SOCIAL WORKERS
Fresh snow and blue skies provide the perfect backdrop for the glitterati, the independent, and the inspiring who are visiting Park City and Salt Lake City for the Sundance Film Festival. Over the last 31 years, the annual festival has served as a venue for thousands of unknown voices to share unique, creative, and powerful untold stories.
Many of our faculty and staff at the University of Utah College of Social Work take advantage of having this internationally-acclaimed annual event in their back yards. After an evening at the theater, they often return to the College with a list of must-see films for social workers. We're pleased to share a few of their 2016 recommendations (in no particular order).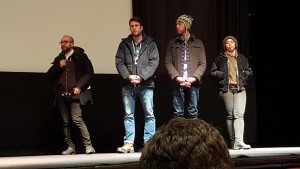 Christine
Recommendation: "Christine is the story of Christine Chubbuck, a television news reporter in Florida who committed suicide on live television in 1974. We get a more rounded view of her personality, and why her co-workers described her as difficult but brilliant, warm, and funny. While her depression and rapid cycling from mania to despair become increasingly evident, it was not sufficiently evident for anyone to correctly diagnose her bipolar disorder in order to save her. This would be an excellent case study in BPD, but also is a wonderful argument for physician training and mental health policies in general." – Dr. Joanne Yaffe, Professor
About this film: "In 1974, a female TV news reporter aims for high standards in life and love in Sarasota, Florida. Missing her mark is not an option. This story is based on true events." (Director: Antonio Campos)
Recommendation: "If I see only 10 films at #Sundance2016 please let them be this good. Amazing film!" – Dr. Joanne Yaffe, Professor
About this film: "In a small Southern town in the autumn of 1941, Sophie's lonely life is transformed when an Asian man arrives under mysterious circumstances. Their love affair becomes the lightning rod for long-buried conflicts that erupt in bigotry and violence with the outbreak of World War ll." (Director/Screenwriter: Maggie Greenwald)
Recommendation: "Really, everybody should see 'Captain Fantastic….' You've got mental health issues (bipolar, suicide), child welfare issues (style vs safety), loss and grief (mom's death and burial, saying good bye), and lessons about family love and forgiveness. It was fabulous." – Lisa Himonas, Assistant Dean for Development
About this film: "Deep in the forests of the Pacific Northwest, a father devoted to raising his six kids with a rigorous physical and intellectual education is forced to leave his paradise and re-enter society, beginning a journey that challenges his idea of what it means to be a parent." (Director/Screenwriter: Matt Ross)
Hunt for the Wilderpeople
Recommendation: "Wonderful exploration of a disrupted foster placement in NZ." – Dr. Joanne Yaffe, Professor
About this film: "Ricky is a defiant young city kid who finds himself on the run with his cantankerous foster uncle in the wild New Zealand bush. A national manhunt ensues, and the two are forced to put aside their differences and work together to survive in this heartwarming adventure comedy." (Director/Screenwriter: Taika Waititi)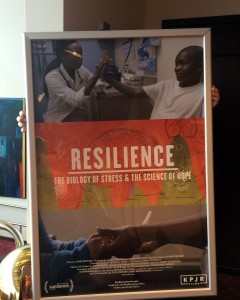 Resilience
Recommendation: "Solidly grounded in science, the film brings to light how adverse childhood experiences (ACE) affect the health and behavior of children, as well as adults. It provides great examples of helping children overcome experiences that are often misdiagnosed, such as a misdiagnosis of toxic stress as ADD. How do we train children to recognize the stress in their lives? How do we make the connection between childhood traumas and the body's manifestation of that stress? This film examines the connections between health and mental health through an interdisciplinary lens and acknowledges a major public health issues – an epidemic – that our society doesn't want to talk about." – Dr. Dena Ned, Associate Professor/Lecturer
About this film: "This film chronicles the birth of a new movement among pediatricians, therapists, educators, and communities using cutting-edge brain science to disrupt cycles of violence, addiction, and disease. These professionals help break the cycles of adversity by daring to talk about the effects of divorce, abuse, and neglect." (Director: James Redford)
Recommendation: "This documentary is an important contribution to educating viewers on current issues young girls and women face in other cultures. The film addresses traditional family views on forced marriage in Afghanistan and Iran, lack of education for women, women's rights, human rights in general, immigration, and refugee life in the United States. What makes Sonita's story unique is her courage and determination in creating a rap video that earned her a scholarship opportunity in the United States. After leaving Iran secretly initially without her parents' knowledge, she is not only pursuing a better life and education for herself, but also hopes to help other young women in similar situations in her home country." – Inka Johnson, MSW Program Administrative Assistant
About this film: "If 18-year-old Sonita had a say, Michael Jackson and Rihanna would be her parents and she'd be a rapper who tells the story of Afghan women and their fate as child brides. She finds out that her family plans to sell her to an unknown husband for $9,000." (Director/Screenwriter: Rokhsareh Ghaem Maghami)
Recommendation: "Mom is dying of cancer, so her gay son comes home to help, but his father is not accepting of his sexual orientation. It's a story of loss and grief, as well as LGBTQ/family acceptance." – Lisa Himonas, Assistant Dean for Development
About this film: "A struggling comedy writer, fresh from breaking up with his boyfriend, moves to Sacramento to help his sick mother. Living with his conservative father and younger sisters, David feels like a stranger in his childhood home. As his mother worsens, he tries to convince everyone (including himself) he's 'doing okay.'" (Director/Screenwriter: Chris Kelly)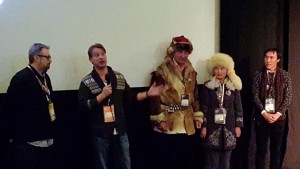 The Eagle Huntress
Recommendation: "The Eagle Huntress is a tour de force. See it!" – Dr. Joanne Yaffe, Professor
About this film: "Step aside, Daenerys and Katniss—Aisholpan is a real-life role model on an epic journey in a faraway world. Follow this 13-year-old nomadic Mongolian girl as she battles to become the first female to hunt with a golden eagle in 2,000 years of male-dominated history." (Director: Otto Bell)
Recommendation: "This film is a great portrayal of some of the difficult and amazing work being done by some advocates for social justice in China. If you love social justice, you'll love this film." – Miguel Trujillo, Youth Empowerment Program Project Coordinator
About this film: "Traversing southern China, a group of activists led by Ye Haiyan, a.k.a. Hooligan Sparrow, protest a scandalous incident in which a school principal and a government official allegedly raped six students. Sparrow becomes an enemy of the state, but detentions, interrogations, and evictions can't stop her protest from going viral." (Director/Screenwriter: Nanfu Wang)