Seizing Opportunities: How One BSW Student is Fighting Sex Trafficking in Utah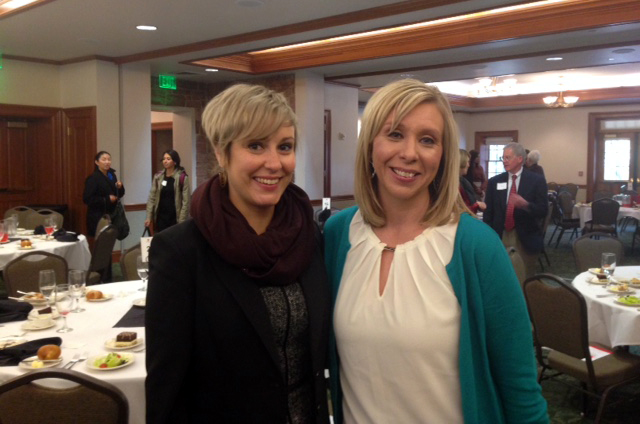 Dr. Lindsay Gezinski and BSW student Christie Morgan, who was selected as one of three University of Utah Parent Fund Undergraduate Research Opportunities Program (UROP) Scholars for the 2015-2016 year.
By Christie Morgan, BSW Student
I didn't begin my college career straight out of high school, as is typical for most college students. Instead, I spent 13 years in the banking industry, eventually ending in project management. When I returned to school, I reflected on the aspects that brought success in my previous career: participation in projects that changed the way employees did their jobs, and an influential mentor that encouraged opportunities for growth and development. I knew if I could find such opportunities in college, I would seize them.
In my first semester at the University of Utah, Cindy Greaves and Stephanie Shiver from the Office of Undergraduate Research were guest speakers in my ­­­Advanced Social Work Writing class and presented the Undergraduate Research Opportunity Program (UROP). This was the chance I was seeking. I began to watch for opportunities to participate in the program.
My intention has always been to engage in macro social work. Participation in research, therefore, held a definite appeal. Engaging in global social work was also an area of great personal interest. When I learned that Dr. Lindsay Gezinski was seeking research assistants for an exploratory research project examining sex trafficking in Utah, I knew I had to participate.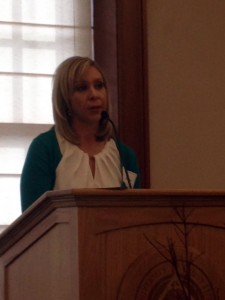 I've been granted the amazing opportunity to work with Dr. Gezinski and MSW student Lexie Levitt to gain a better understanding of the prevalence, history, and population characteristics regarding sex trafficking in Utah. The purpose of the research study is to identify gaps and provide recommendations for better identification and criminal justice service intervention.
Study participants come from a variety of criminal justice departments and include law enforcement, attorneys, case managers, and so on. We have conducted in-depth qualitative interviews with 17 criminal justice professionals so far. Interview data are transcribed and analyzed using thematic analysis. My responsibilities include study participant recruitment, observation or facilitation of interviews, and occasional interview transcription.
Themes emerging from completed interviews include barriers to identification, prosecution, and treatment. Study participants have mentioned concerns about their own lack of understanding regarding the prevalence of sex trafficking in Utah. Additionally, study participants have discussed the inability to prosecute perpetrators with human trafficking crimes, lack of resources for victims, victim's resistance to the victim label, lack of training, and unclear differentiation between sex trafficking and prostitution.
Participating in this research project gives me experience that will greatly enhance my knowledge and abilities in all aspects of research, from ethical and sensitive collection of data, to fair and balanced dissemination, to critically analyzing the results for conclusions and future research opportunities. In addition, participation in this research project has improved my abilities to contribute to these areas of study once I enter the work force. Working with Dr. Gezinski allows me to participate in the research of a global concern at the local level. Furthermore, completion of this study will strengthen my academic resume and allow me to be a competitive applicant to a graduate program. Finally, I have the exciting opportunity to present this research at the Utah State Capitol in January, which represents an important piece of facilitating change in our communities.