Hearts, Humility, and Healing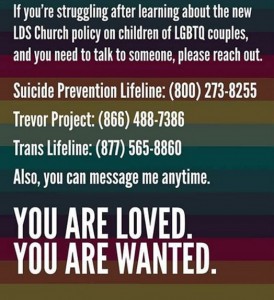 By Karl Jennings and Megan Whitlock, MSW Students
Almost two weeks ago, [in response to a new policy adopted by the Church of Jesus Christ of Latter-day Saints], many of us woke to the Instagram picture at right. At least two of us (Megan Whitlock and Karl Jennings) went to class not really sure of all the emotions we felt. Regardless of our LDS/LGBT positionality, from the looks on the faces of our friends, we were certain that people were hurting. Despite the potential for deep disagreements, the following occurred:
Megan Whitlock: In diversity class later that day, the teacher welcomed us to process the LDS Church's policy regarding same-sex families. I felt the sorrow I had not yet registered and tears began to stream. All day I had seen the faces of many of my friends who I feared had yet another jab to deal with from the Church. Unable to withhold my thoughts any longer, I raised my hand. All I could say through my tears was that I didn't know what my future would be or how to do what I felt was right, but I felt that my place in the Church was to stay – with the intent of creating spaces. I felt and feel like I need to be in the Church to be an influence wherever I can be an influence in order to keep conversations happening. And what happened next has become sacred to me. A member of the class, a gay man – a dear friend – offered ME support.
Karl Jennings: I think I said that I can understand and respect that. I don't think it's my place to require anyone to leave or to stay. I am not in a place where I can work within the Church and it would be hypocritical of me to try, but I support whatever you decide because I know your heart.
Megan: We both shared tears in that exchange, but we also shared a space that we have since struggled to name. We wanted to understand how we were able to feel this connection that seemed unlikely, given our respective positionalities: Megan, an active, straight member of the LDS Church; and Karl, a gay, agnostic, former member. As a result of further dialogue, this is what we believe enabled us to enter a transformative space:
"I know your heart." "We cannot live peacefully without humility."
Karl: To me, it was knowing you, Megan – as a person of great worth and hearing you speak often with genuine empathy and caring – that I knew whatever place you landed, it would be a place I could respect. In the face of that, it was more important for me to reach out to you than to be "right." I think that's where humility comes in.
Megan: And for me, in that moment you, Karl, spoke your truth without denying me mine. I also know your heart. I have known you to love, own, and seek your path while always recognizing that others have paths of their own. It takes humility to live that way, and it gave me the strength and courage to live that way too.
We believe our friendship laid the groundwork that turned a potential divide into a strengthening experience. We could trust each other's intentions because we took the time to know each other. Because we had already developed something valuable between us, it was mutually more important to reach out than to go on the defensive – to suspend the need for a "right" answer. We know this doesn't solve the issue. Neither of us is sure we even can.
The community is hurt, but it has the power within itself to heal. Our role as social workers is to nurture that power, teach it, and live it.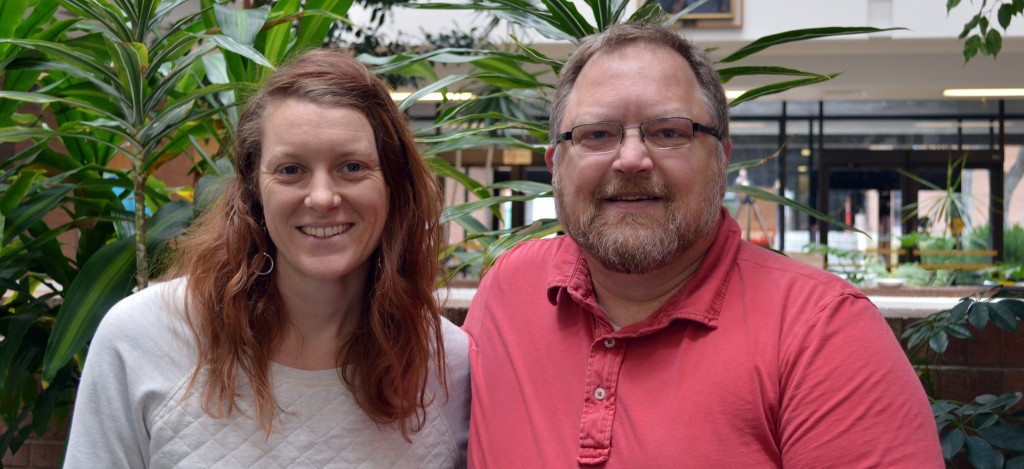 MSW students Megan Whitlock and Karl Jennings