Finding Fans on the Field in the Classroom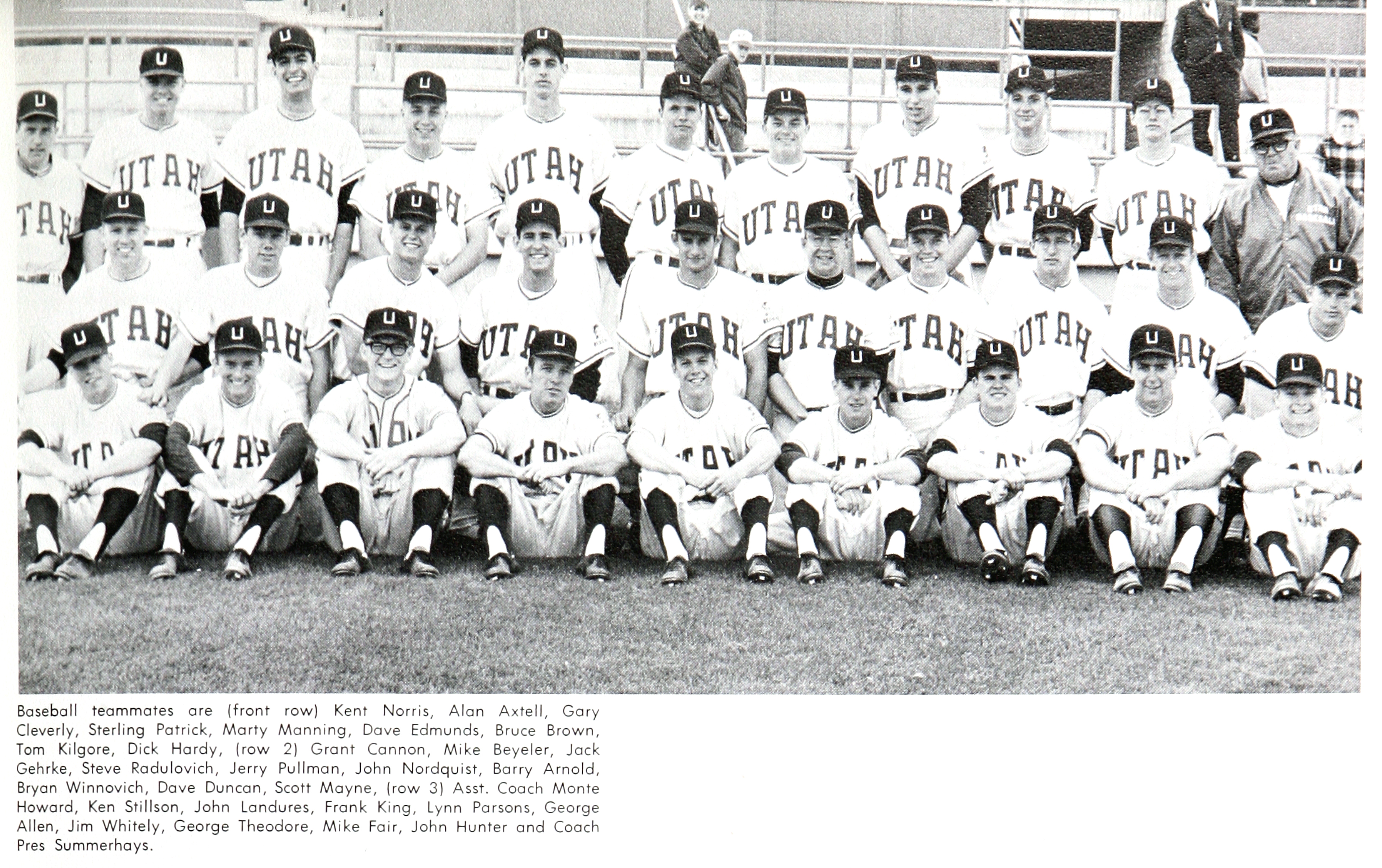 By Jennifer Nozawa, Public Relations Specialist
He was nicknamed "The Stork." At 6 feet 5 inches tall, George Theodore stood out among the 1973 New York Mets. He moved well on his long legs, making him a dynamite first baseman and a quick outfielder. Today, as a school social worker, he towers above the elementary students with whom he works, yet his warm demeanor, quirky sense of humor, and terrific baseball stories make him easily accessible to both kids and parents.
Mr. Theodore's baseball career started early. He hit his first home run at age 9 and by age 11, had become a terrific pitcher. He recalls a scout for the New York Yankees attending one of his little league games. Young Mr. Theodore had a batting average of .750 that game, "yet the Yankees didn't try to sign me!" It was a great disappointment, but he was not deterred. He played baseball at Salt Lake City's Skyline High School and the University of Utah before earning his bachelor's degree in psychology in 1969.
During his senior year of college – upon the recommendation of his aunt – Mr. Theodore applied to the U's Master of Social Work (MSW) Program. Shortly after being accepted, he was drafted by the New York Mets in the 31st round of the amateur draft. He decided to play with the team's minor leagues through the summer before returning to Salt Lake City for fall semester. "I did better than anyone expected," recalls Mr. Theodore. So he put graduate school on hold.
Over the next five years, Mr. Theodore climbed the minor league ladder, playing with teams in Virginia, Florida, California, and Tennessee. "I was picked late in the draft," he said. "If I didn't do well for a week, I knew I'd be gone." But he did do well and, during spring training in 1973, he finally earned his spot on the Mets major league team. "I was absolutely excited, but without great expectations." He'd played first base in the minor leagues, but his tall build, impressive wingspan, and great speed made him a strong asset to the Mets in the outfield.
On July 7, 1973, the Mets were playing the Atlanta Braves at home in Shea Stadium. In the 7th inning, the Braves' Ralph Garr hit the ball deep toward left center field. The Stork and center fielder Don Hahn both drove toward the ball. With eyes on the ball, they collided with each other and the wall, then fell to the ground. Players and both team physicians ran to their aid. Mr. Theodore was carried off the field on a stretcher. "I was in agony for about five hours," he recalls. During the slow drive to the hospital – through rush hour traffic – the physicians withheld painkillers, thinking Mr. Theodore might have to be sent to surgery. Although he broke no bones, the collision dislocated Mr. Theodore's hip. "I was never the same player after that," he says. Mr. Theodore rejoined the team in mid-September and returned to the field just in time for the pennant race.
On October 13, 1973, the Mets took to the field to face the Oakland Athletics in the first game of the World Series. Mr. Theodore recalls feeling prepared for the no-doubt overwhelming experience. "In my backyard growing up, I played a thousand championship teams!" It was a hard-fought series between two talented and well-matched teams. But in Game 7, the A's defeated the Mets and won the World Series.
The next year, Mr. Theodore received a hand drawn portrait of himself from a young Jackson Heights, New York, fan named Sabrina. The detail and skill stood out from other fan artwork he'd received, so he called Sabrina to thank her for the gift. "I found out the reason I was on the Mets," he says. "It was fate." Today Sabrina teaches art at Uintah Elementary and Oakridge Elementary in Salt Lake City. She and Mr. Theodore have been married for 38 years. Do they still have the portrait? "Of course!" says Mr. Theodore.
He played sparingly during the 1974 season. Although he wasn't experiencing pain, after his injury, he didn't have as much motion or strength as he had before. His last game with the Mets was October 2, 1974.
He returned to Salt Lake City in 1975 and, in 1976, Mr. Theodore was once again accepted into the MSW Program at the U. He fondly recalls the office of Prof. Georgia Willey Snyder, which was setup in a manner similar to a living room. He later became friends with two of his favorite professors, Dr. Larry Smith and Dr. Jim MacNamara. "They're not only great professors, they're great golfers!"
Mr. Theodore focused his education on medical social work and completed his practicum in the VA Hospital in Helena, Montana. As fate would have it, though, upon graduating in the spring of 1978, he found few open positions for medical social workers, so he accepted a position with the Granite School District's elementary counseling program. It turned out to be a good fit.
From his office in Lincoln Elementary, Mr. Theodore proudly shares that the school's student body now includes 70 children with refugee backgrounds, and that 30 different languages echo through the halls. He speaks some Spanish – a language he started to pick up playing winter baseball in Mexico, Venezuela, and the Dominican Republic. He explains that he can speak the language better than he can understand it, but since more than 50% of the kids at his school are Hispanic, it comes in handy.
He loves working with kids. "You can see a lot of change in a hurry," he remarks. For many years, Mr. Theodore spent one day each week working at Granite High School, before the school permanently closed in 2009. He notes that with teens, it often took longer for students to see the changes they worked toward. But with elementary-aged children, he can observe improvements in self-esteem and social skills in just a few sessions. "I'm lucky I'm here at one school," he says. Spending every day at Lincoln Elementary has not only made his job more rewarding; it has made it easier for him to track progress and build good working relationships with students, their parents, and the teachers.
After nearly 38 years with the Granite School District, Mr. Theodore remarks, "It's gone by kind of fast." During his time, he has supervised 10 University of Utah MSW students in their practica, seven of whom went on to be hired by the District. "It's a wonderful profession," he says. "Very energizing."
He cautions, though, that he has observed how changes in legislation are impacting the educators with whom he works. Mr. Theodore explains that increasing pressure on teachers to improve test scores and changes in performance reviews are contributing to low retention of new teachers. He also worries that teachers and schools have become scapegoats for a myriad of societal problems. "It's burning people out," he says.
Retirement is now just months away, and Mr. Theodore has big plans: "I'm not really planning on anything." When pressed, he admits he's looking forward to grooming his dogs and spending more time with his son, who is a professional golfer. When asked if he still regularly golfs with the College of Social Work's Dr. Smith, he says, "Tell him I'm ready to play more!" We anticipate Mr. Theodore's retirement will also include cheering for the Mets.
Of the 2015 World Series, he says, "It's a miracle year!" He describes the series as a culmination of emotion and momentum for the Mets, remarking, "Their pitching is really something." Although the Mets lost the first game in the 14th inning, Mr. Theodore isn't giving up on them. "One game doesn't mean a thing," he says. "The Mets are a team of destiny."