Driving for Greatness with Dean Hank Liese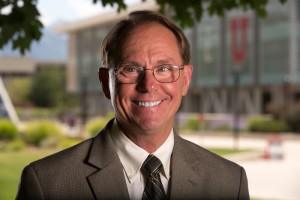 Lawrence Henry (Hank) Liese saw golf in his future. A lot of golf — and more free time with Gail, his wife of 29 years, and their two dogs Lulu, a 10-year-old Lhasa Apso, and Murphy, a 16-year-old Schnoodle. That was the tantalizing promise of his July 2014 phased-retirement plan. As it turns out, Dean Liese, who does many, many things well, was completely unsuccessful at phased retirement. This is the story — albeit short — of his path to the deanship in the College of Social Work (CSW) — rather than the senior golf circuit.
Dean Liese completed an MSW-PhD program at the University of California, Berkeley in 1990, after which he worked as a disabilities case manager for three years. He was hired as an assistant professor at the CSW in August 1993 and, over the course of his 22 years at the College, has taught, served as development director and alumni relations coordinator, directed the PhD Program, served as associate dean for academic affairs, and been a special assistant in the University's Office for Faculty. He has been a lead member on numerous University committees, including one that increased the role of the University's career-line faculty in shared governance through representation on the Academic Senate and other initiatives. When the national search for a new dean did not result in the right fit for the CSW, Senior Vice President for Academic Affairs Ruth Watkins asked Dean Liese to serve as dean for at least the next two years.
Although Dean Liese's path to the dean's office was unusual, he has fully embraced his role and received the enthusiastic support of administration, faculty, staff, and students. He is committed to collaboratively creating a strategic plan for the College — one that will have input from many and buy-in from stakeholders. "My number one goal is to increase our national visibility and stature," he said. "Although rankings are often methodologically flawed, they do mean something and they are important in attracting good faculty, students, and research opportunities."
Dean Liese is enthusiastic about the future — and confident in the ability of faculty, staff, students, alumni, and friends to take the College to new heights. "The best part of the job," he shares, "is coming in every day and seeing the people. I appreciate that everybody wants the same thing — to be great."