Effects of Mindfulness-Oriented Intervention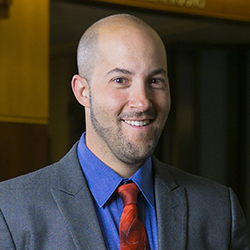 With more than $23 million in federally funded research grants, the University of Utah College of Social Work is directly tackling the opioid crisis in America. But "it's not about the dollars," said Associate Dean for Research Eric Garland, lead investigator on many of these research studies. "The dollars represent real-world impact in terms of the number of lives touched. Large grants enable you to do high impact studies that affect a lot of people."
Which is exactly what Dr. Garland and his colleagues at the Center on Mindfulness and Integrative Health Intervention Development (C-MIIND) are doing. The Center, directed by Dr. Garland and housed in the College of Social Work, has a mission to develop, optimize, and test mindfulness and other behavioral interventions to treat chronic pain and substance use disorders. Dr. Garland explained that when he started this line of NIH-funded research in 2010, "there were literally no evidence-based treatments that could simultaneously address prescription opioid misuse and chronic pain symptoms. There were treatments for chronic pain conditions; there were treatments for addiction. But there was nothing out there than targeted this intersection" Dr. Garland set out to change that. The resulting therapeutic intervention, Mindfulness-Oriented Recovery Enhancement (MORE), has since helped hundreds of patients experience relief using simple mindfulness techniques.
In a recent randomized controlled trial of patients suffering from unmanageable pain, Dr. Garland and his associates found that a single session of mindfulness training reduced pain by 23%, and a third of patients achieved a 30% or greater degree of pain relief. Dr. Garland notes that this level of pain relief is equivalent to five milligrams of oxycodone. "A social worker delivering a 15 minute mindfulness intervention could reduce pain as much as an opioid pill," he said. "That's pretty big. It tells me that social workers can make a dent in the opioid crisis by providing mind-body therapies throughout the healthcare system, wherever pain is found."
Garland, E. L. (PI). Effects of Mindfulness-Oriented Intervention on Endogenous Opioid Mechanisms of Hedonic Regulation in Chronic Pain. NIH-National Center for Complementary and Integrative Health. Phase Funds: $3,034,598.