Partners in Dialogue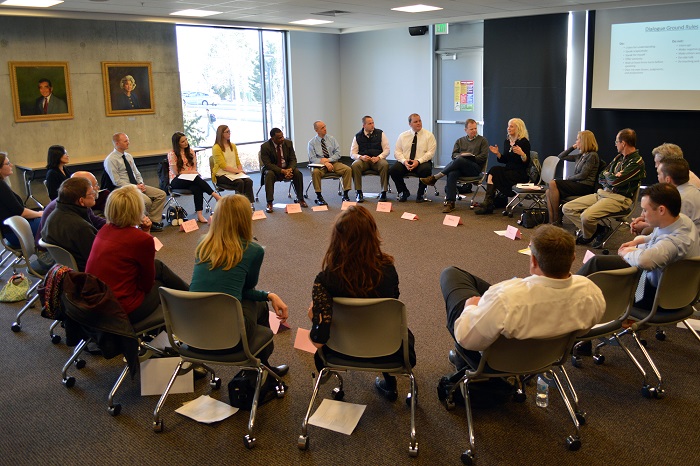 Utah. Well known for skiing in the winter, hiking in the summer, and beautiful national parks year-round. Home to several nationally award-winning beer breweries, the critically acclaimed Sundance Film Festival, and headquarters of the Church of Jesus Christ of Latter-day Saints. Residents of the Wasatch Front are used to feeling this last bit in a variety of ways. At home, at work, and at play, the relationship between "the Mormons" and "non-Mormons" form part of the sub-context of life in Utah. For years, it has been somewhat of an elephant in the room at the College of Social Work (CSW; a tension felt but not always given voice.
Colleagues from LDS Family Services (LDSFS) and faculty from the College of Social Work are working to change that. This spring marked the third meeting between the groups as they seek to engage through differing ideologies and build on common ground. A group of about 20 therapists, half from LDSFS and half from CSW, dialogued around assumptions made about the other group and how to combat the stereotypes each group is facing. Pushing beyond labels, these talks create an opportunity for people to come together across differing ideologies, consider viewing situations through a different lens, and to find common ground.
"This is the kind of conversation social work is about," said Prof. Jerry Buie, the CSW co-organizer of the event. "It's easy to avoid this dialogue, but by engaging in this process, we are trying to model the behavior we'd love to see replicated in our communities." All present acknowledged the work of previous meetings and were grateful for the commitment this discourse signals for an ongoing partnership.
Dean Martell Teasley also emphasized the significance of these talks. "Everyone is welcome here at the College of Social Work. We're all in this together. This dialogue is important."