A Twist of Fate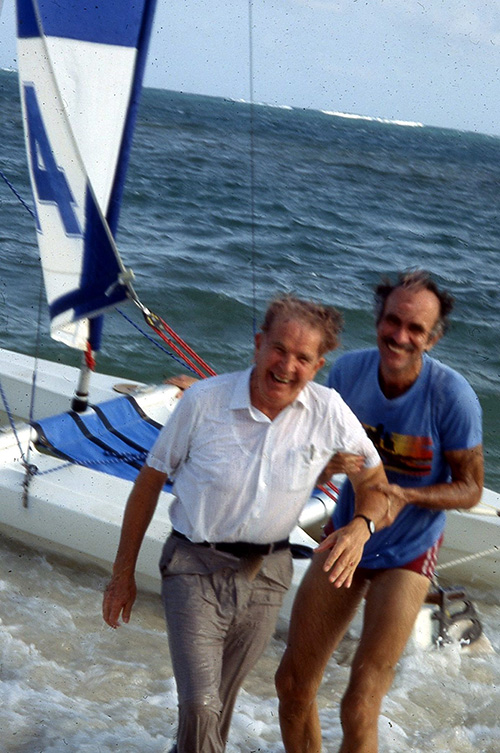 In the heavily shark-infested Somali Indian Ocean, Milton (left) slipped getting off the boat. Fortunately, Barry (right) came to his rescue and they evaded the sharks.
"My dad was Milton G. Widdison, and he got his MSW in the early '50s," said Leilani Rigby. "He worked for a short time for the Juvenile Delinquency home, then for Public Welfare, and then spent most of his career as a social worker at the VA Hospital."
It was there, she said, that Milton met Barry Rigby (MSW '72), who was in a practicum placement at the VA. Barry and Leilani married and, according to Leilani, "The rest is a lot of history...."
"Barry is among those [graduates] you can be proud of," Leilani told the College of Social Work. "His MSW landed him a job in New York City for six years, working for the International Association of Schools of Social Work. From there he joined the UN High Commissioner for Refugees and headed their Social Services section at headquarters, Geneva, for a couple of years. He then embarked on field work, usually as head of office. He worked with refugees in Juba, the southern Sudan; Peshawar, Pakistan; Mogadishu, Somalia; Addis Ababa, Ethiopia; Ankara, Turkey; and Sarajevo, Bosnia, before taking early retirement in 2000. He was widely respected much beloved."
Click here to support scholarships for future social workers who could change the world!